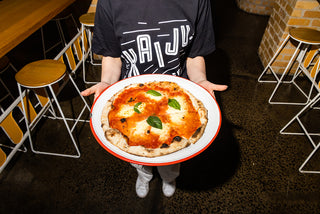 BOOKINGS
We encourage you to book to secure the best pozzy, especially on weekends as spaces will fill quickly. We also have high tables for walk-ins, so you're always welcome to pop in unexpectedly, but there may be wait times for those tables in busy periods.
Bookings can be made via Open Table below.
If you would like to ask us anything, flick us a note at
venuemanager@kaijubeer.com.au or call us on 0474 640 868.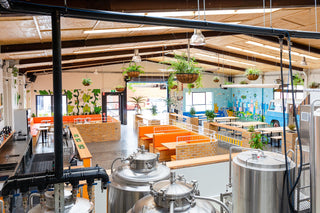 VENUE
Set in a converted warehouse adorned with hand-painted murals, KAIJU! Beer&Pizza provides the ideal setting to wait out the Kaijupocalypse. Once you've taken in the sight of the retro Toyota Coaster, which doubles as its own seating area, treat yourself to a beer and a pizza. Sit back and relax amidst the mid-century decor, cozy nooks, communal seating, and a dog-friendly outdoor area.

At KAIJU!, we love hop-forward beers, and your visit will not leave you disappointed. With 16 beer taps, you can fully immerse yourself in the world of KAIJU! favourites. Alternatively, you can try one of our limited releases, carefully crafted in our on-site 600-litre brew kit. A wide range of styles, flavours, and complexities await, allowing you to embark on a tasting adventure with a paddle in hand. But that's not all—we also invite you to explore our selection of wines, savour our refreshing Golden Axe cider on tap, and indulge in our carefully curated assortment of premium spirits and cocktails. Additionally, we offer a selection of non-alcoholic drinks. Join us at KAIJU! Beer, where each sip takes you on an extraordinary journey.

KAIJU! Beer&Pizza is also proud to feature a state-of-the-art pizza oven, offering a menu that encompasses classic pizza styles. However, being true to our KAIJU spirit, we also embrace fun and experimentation. Try our Cheeseburger pizza, the ultimate satisfaction for your cravings! You can view our menu or make a booking below. And remember, all of our beers are available for takeaway at the venue!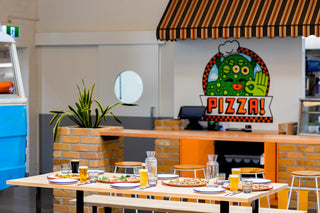 VISIT
Located a single story converted warehouse, KAIJU! Beer&Pizza is only a short walk from Huntingdale station. We're conveniently located near Chadstone Shopping Centre, Clayton business centre and Monash University's Clayton Campus.

A: 27 Hume Street, Huntingdale VIC 3166
E: venuemanager@kaijubeer.com.au
HOURS
Monday - Wednesday: Closed
Thursday: 4 pm - Late
Friday: 12 pm - Late
Saturday: 12 pm - Late
Sunday: 12 pm - Late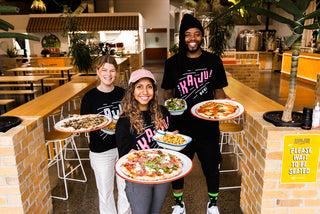 FUNCTIONS
KAIJU! Beer&Pizza is the ultimate destination for your next event! Whether you're celebrating a special occasion or just want to have a great time with friends, our versatile venue is here to make it a truly memorable experience. We've got all the ingredients for a fantastic gathering: a unique ambience, exceptional service, and a mouthwatering selection of craft beers.
Spacious & Versatile: Our function spaces are designed to cater to your needs, no matter the size of your group. We've got plenty of room for mingling and seating.
Craft Beer Delights: Prepare your taste buds for a flavour explosion! Our handcrafted award-winning beers are second to none. From our tropical pale ale to hoppy IPAs and our limited edition Mutation Program, there's a beer to suit every palate. Our knowledgeable staff will be your beer ambassadors, guiding you through the fascinating world of craft beer and ensuring you and your guests have an unforgettable experience.
Exceptional Service: Sit back, relax, and let us take care of everything. Our dedicated team will handle all the details, from curating the perfect menu to attending to your guests every need. You can count on us to ensure your event is a roaring success. We'll go the extra mile to make it a KAIJU-sized blast!
Book Your Event Today: Take advantage of the chance to create memories that will be discussed for years. Contact our events team to secure your date and let the good times roll. Trust us; you will want to experience the fun that awaits at Kaiju Beer&Pizza!
To book your function message venuemanager@kaijubeer.com.au
PIZZA
MARGHERITA $25
Tomato Base, Mozzarella, Fior Di Latte, Basil (V)
PROSCIUTTO $27
Tomato Base, Mozzarella, Prosciutto, Rocket, Fior Di Latte
TROPICAL $26
Tomato Base, Mozzarella, Ham, Pineapple
BBQ CHICKEN $27
Tomato Base, Mozzarella, Red Onion, Capsicum, Chicken, Housemade BBQ Sauce
CALABRESE $26
Tomato Base, Mozzarella, Salami, Roasted Capsicum, Chilli
VEGANERONI $26
Tomato Base, Vegan Mozzarella, Vegan Salami, Fresh Parsley (VE)
CHEESEBURGER $27
Tomato Base, American Cheese, Red Onion, Beef, Pickles, Mustard, Ketchup
FUNGHI $27
Garlic, Mozzarella, Seasonal Mushrooms, Parmesan, Truffle Oil (V)
CAPRICCIOSA $26
Tomato Base, Mozzarella, Ham, Mushrooms, Olives
Gluten free base $2
Vegan cheese $2
SIDES N THAT
Salt & Pepper Calamari $15
AFTER PIZZA
CALZONE $16
Nutella and Strawberry with Ice Cream
Ice Cream $10
With Ice Magic and Sprinkles
KIDS
Ham and Pineapple Pizza $14