MEET NAT AND CALLUM
THE *ODDBALLS* THAT STARTED ALL THIS KAIJU! BEER MALARCKY.
Brothers Nat and Callum Reeves established themselves as the original hopmasters in 2013. Since their first beer (Aftermath Double IPA) single handedly caused a statewide shortage of Simcoe hops, their hop-driven styles and unique branding have seen them grow the brewery and stay 100% family owned.
"We've been into making (and drinking) beer for a long time - we're kind of nerdy scientists about it actually. In late 2013 we decided to start making beer for a living and released a Double IPA that was a little bit hoppy and got some attention. We're only as successful as the support we receive, so thank you!"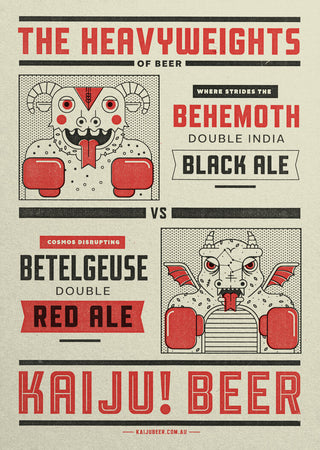 WHAT IS A KAIJU! ANYWAY?
Kaiju means "strange creature" in Japanese - think Godzilla, Mothra, and all the baddies from Mighty Morphin Power Rangers. Our own tribe of kaijus include the Diatamatic Hopzilla, Cthulhu, Behemoth, Betelgeuse and the lovely lady Hopped Out Red.
AWARDS AND STUFF
KAIJU! Beer has got some recognition of late, which is really because of our fans - thank you!
RateBeer Best by style - IPA - Black/Brown/Cascadian Dark - Where Strides The Behemoth DIBA
#18 of 2021 GABS Hottest 100 - Krush! Tropical Pale Ale
#11 of 2020 GABS Hottest 100 - Krush! Tropical Pale Ale
#9 of 2019 GABS Hottest 100 - Krush! Tropical Pale Ale
#8 of 2018 GABS Hottest 100 - Krush! Tropical Pale Ale
#10 of 2017 GABS Hottest 100 - Krush! Tropical Pale Ale
#78 of 2017 GABS Hottest 100 - Aftermath Double IPA
#12 of 2014 GABS Hottest 100 - Where Strides the Behemoth
#19 of 2014 GABS Hottest 100 - Hopped Out Red
#29 of 2014 GABS Hottest 100 - Metamorphosis IPA
#46 of 2014 GABS Hottest 100 - Aftermath Double IPA
#3 Australian beer on RateBeer - Where Strides the Behemoth
#17 Australian beer on RateBeer - Aftermath Double IPA
Trophy for Best Amber/Dark Ale - AIBA 2014 - Hopped Out Red
People's Pint -Best Brewery - Good Beer Week 2014 
#64 of 2013 Hottest 100 - Aftermath Double IPA